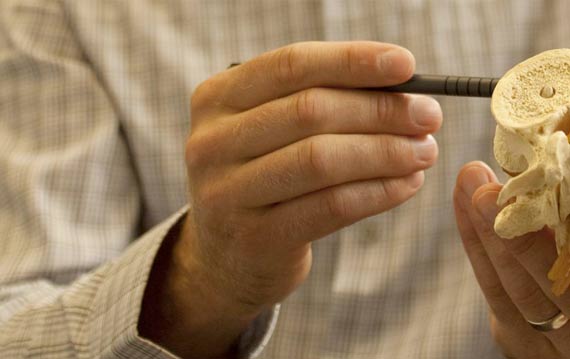 The Chiropractic magic!
You know that unexpected but much required 'pop' that comes after a really bothersome neck pain or back pain filled day and magically relieves you of the pain? What if you don't have to endlessly wait for the sweet sound of a pop to be music to your ears in order to get rid of the pain? Dr. Crystal can do that for you. And that's what the chiropractic magic is about!
Chiropractic manipulation, however, is not just about joint popping. As a matter of fact, a successful chiropractic manipulation does not necessarily require for the audible pop to happen. Rather research proves whether pop or not, the same benefits are experienced by the patient. On the other hand, trying repeatedly to get a pop can actually cause damage.
At Restorative Health Center, we help you achieve the many benefits of the chiropractic manipulation. There are a number of explanations how our expert will work their magic on you.
Releasing endorphins
We already know that the release of endorphins is directly linked with feeling content, good or happy from the inside. Our proprioceptive stimulation triggers release of endorphins which results in an instant relief from pain. This works in the same way as a pain killer, making you less aware of the problem.
Relaxing of local tissues
A side benefit of chiropractic stimulation is that it relaxes the local body tissues such as trigger points or tight musculature that may be pinching the nerves. It also helps in providing pain relief.
Improving the nutrient supply
Our body structures such as cartilage do not enjoy a direct blood supply. Instead they get their nutrients through motion. The blood supply goes to the outside of the joint and nutrients move into the synovial fluid of the joint. Joint motion moves this fluid around, thus providing fresh nutrients to all parts of the joint, as well as removing waste. If a joint locks down due to muscle spasm, scar tissue, a cast or any other reasons for a prolonged period of time, the joint often begins to feel stiff. You know the feeling of needing to stretch after sitting in the car for a long time. Chiropractic manipulation induces full range of motion and synovial fluid movement.
Reducing the pressure on nerves
Our nervous system is the control center of our body but it is not without weaknesses. Nerves and nerve bundles are soft tissues. They don't function well under physical pressure. In fact research has shown that inflammation, a bulging disc, or a fragment floating around can interfere with proper nerve conduction. This can be caused by a stuck joint pressing on a nerve or moving in a way that negatively rubs the nerve. A chiropractor can relieve you of the resultant pain by reducing the pressure on the nerves by making the joint move in the right direction.
Brain re-training for improved functioning
When a chiropractor manipulates joints, the brain also records these proprioceptive signals from the joints motion. Especially for chronic conditions, the brain is in need of re-training regarding the motion of that joint. Manipulation takes a joint through its full range of motion. This new input is then stored and replayed in the brain, similar to muscle retraining that physical therapists do or physical training of athletes. When the body has done the motion enough times it remembers it. This retraining provides a functional correction that may provide pain relief in the future.
Dr. Crystal also certified in Cox Flexion-Distraction. Cox Flexion-Distraction is back pain, neck pain, arm pain, leg pain, and even after spinal surgery. Flexion Distraction is the gentle, safe, controlled treatment for spinal pain relief.
How?
Flexion distraction drops intradiscal pressures as low as -192mmHg and widens the spinal canal area by as much as 28%. As a bonus, flexion distraction returns motion to the spinal joints, too!
How fast?
Flexion distraction for low back pain conditions takes just 12 visits in 29 days average. (1) Flexion distraction for neck pain conditions takes just 13 visits average. (2) Now if you have a disc herniation, logically, that will likely take more visits/days than if you have a sprain or strain. Plus, these are just averages. Some back pain and neck pain sufferers find relief in just a visit or two. Now that's a welcome relief.
Note: Flexion Distraction follows evidence-based and documented protocols. The federally funded studies use and test them. Flexion distraction doctors read them in the medical-published textbooks and peer reviewed journals. 
The goal of flexion distraction care is at least 50% relief of pain in 30 days before any advanced imaging or testing is ordered. (Have no fear! If you are getting progressively worse or have cauda equina symptoms (can't control your bladder or bowel), you would be referred immediately!) Certified flexion distraction physicians know what to look for! 91% of patients are satisfied with flexion distraction in 90 days. It's relaxing, relieving, gentle. No quick moves or noise.